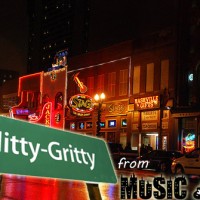 Reba's new double album, Sing It Now: Songs of Faith And Hope, tops both the Billboard Country Albums chart and Christian Albums chart and comes in at No. 4 on the Top 200 all formats chart. The set is Reba's 13th album to top the Country Albums chart, most for any female artist in the genre.
Garth Brooks will give a keynote speech at the Country Radio Seminar on February 23 in Nashville. The speech will be titled Inside Studio G and will give an intimate look inside his business and life.
The Zac Brown Band has canceled this year's Southern Ground Music and Food Festival, set for May 20-21, so they can focus on their upcoming album, Coming Home, which is set for release May 12.
Lee Brice and Hank Williams Jr. will perform April 29 at the National Rifle Association's meeting in Atlanta, Georgia.
Dustin Lynch makes it four in a row on the Country Singles chart this week as Seein' Red claims the top spot. The tune is the first from Dustin's forthcoming third album.
Chris Stapleton from Paintsville, Kentucky, Darius Rucker from Charleston, South Carolina) and Brett Eldredge from Paris, Illinois return to their hometowns for the first episode of CMT Hometown Heroes, airing March 31. In the episode, each artist returns home to perform a special act of giving. The episode will also include interviews with each artist.
Eric Church tells CMT that he is hard to love. "True love to me is when you love a person in spite of all their fallibilities, and for me, I have a lot of them. I'm definitely at times hard to love, and that's what's great about Katherine and the way she loves me. She loves me in spite of those things and really for those things."
Cassadee Pope tells Sounds like Nashville that her fiance Rian surprised her with his proposal. "I had no idea. It was such a surprise! It was a Tuesday morning and I was still in my pj's, so it was not expected, clearly. This is such a stupid story, but he was sweeping in the living room and our puppy, a little French bulldog, the love of our lives, was biting the broom. So I took Cuppy, which is his name, and took him in the bedroom and just kept him in there for a few minutes and Rian was like, 'Ok, you can let him out!' Then, I opened the door and he was on one knee,"
Sam Hunt tells the Altoona Mirror that his engagement to his fiancee takes precedence over everything else in his life. "I'm engaged to be married and that has taken priority over everything, and I'm devoting a lot of time to my fiance and the process of planning a wedding. It feels great 'cause I've known that she was the one for me for some time now, so to confirm it with an engagement is special."
Sam will marry in the Spring.
Brad Paisley tells The Tennessean that he built a bar in his home to inspire his band. "I was thinking, 'This is probably a mistake'. And, it ended up being fantastic. We have just camped out and cut music and it's really fun. It's all sort of been in the name of what I was writing and to capture the vibe of this perspective of mine. The first single is a little taste, but there's a lot of other stuff."