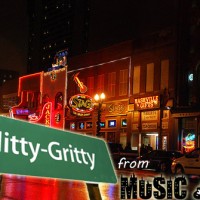 Brett Young was recently presented a plaque commemorating gold status for his self-titled debut album, platinum status for his debut song Sleep Without You, and double platinum status for his In Case You Didn't Know.
Randy Travis has filed another lawsuit, gunning for the Texas officials who want to release a video of his DWI arrest. Randy was arrested in 2012 for a DWI in Texas — he had crashed his Trans Am and tried to walk naked into a convenience store after the crash. Randy cursed the arresting officers, wishing they got cancer. He also threatened to shoot one.
… There has been a dogfight over whether the video showing the arrest scene should be released to the media. Several Texas courts have ruled portions of the video are fair game, but the judges did say shots of below the waist should not be released.
Randy's filed a federal lawsuit this time around, arguing he has privacy rights — namely, because he was exhausted, intoxicated and medicated, and this is tantamount to releasing private medical records.
Shania Twain says she'd love to collaborate with other artists, namely Kelsea Ballerini and Taylor Swift.
Shania Twain tells the October issue of InStyle magazine she wasn't blessed with good looks and didn't start to delve into fashion until after high school. In fact, at one point, she had dancers giving her lessons on how to walk in high heels so she could learn how to perform in them.
Lee Brice raised $100,000 for Folds of Honor, an organization that provides education to families of those who've fallen or been disabled in the line of military duty. The money was raised through two events — a guitar pull at Nashville's City Winery and a Clay Shoot at the Nashville Gun Club. Jerrod Niemann, Tyler Farr and others helped Lee with both events.
Vince Gill, Ricky Skaggs, Alison Krauss and The Oak Ridge Boys are among those joining bluegrass singer Bradley Walker for Blessed: Songs of Inspiration and Faith, hitting stores October 6.
Maren Morris will perform tonight on The Tonight Show With Jimmy Fallon on NBC.
Thomas Rhett's primary goal with his album Life Changes is that fans can find a little of themselves in each of the 14 tracks. He wanted to make an album to explore his various musical influences while tackling material he's lived in his own life hoping the fans would relate on a personal level.
Thompson Square will host the 3rd Annual Rollin' For A Reason motorcycle ride across Tennessee on Sunday, October 1. Proceeds will benefit the USO with the event culminating at the Fontanel mansion with a performance by the duo.