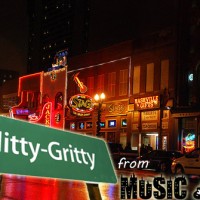 Eddie Montgomery returns to the stage tonight for the first time since Troy Gentry's death when he performs at Tootsie's Orchid Lounge in Nashville as part of the 57th Birthday Bash. Other performers will include Cole Swindell and Terri Clark.
Dierks Bentley is in Nashville working on new music and he's glad for that, because he's having such a hard time in the wake of the Las Vegas shootings that he's not sure he could get on stage right now. Dierks says the bond he has with fans is a special one and he's pretty sure he likely knows at least a few of the victims because many of the same folks show up at his concerts.
TMZ says Ultimate Fighting Championship President Dana White is livid with Jason Alden for turning down the chance to sing the National Anthem prior to UFC 216 in Las Vegas, Saturday night, instead performing on NBC's Saturday Night Live. White claims he reached out to Jason because there were several survivors of the Vegas shooting as well as first responders planning to attend UFC 216. White says Jason's choice to perform on SNL shows he cares more about his image than those who attended his show.
He may not realize it but Tim McGraw's got a 25th anniversary today. It was this day in 1992 that Tim's first single, Welcome To the Club, made its chart debut.
Shania Twain's album Now debuted at the top of the Billboard Top 200 all formats chart.
Blake Shelton's 2012 holiday album Cheers: It's Christmas is out with a special 2017 version that includes three bonus tracks. The set contains collaborations with Reba McEntire, Kelly Clarkson and Michael Buble.
Blake Shelton says he wasn't initially planning to release a new album this year, but when he came across his new single, I'll Name The Dogs, that changed and he called his record label and suggested the idea. He says Texoma Shore, due November 3, captures the vibe of his life right now.
Garth Brooks, Zac Brown, Randy Owen, Vince Gill and Amy Grant and others contribute to A Tribute To Dan Fogelberg, out November 17. The 14 tracks pay homage to the rock pioneer who died in 2007 of prostate cancer.
Johnny Cash's Unearthed Recordings with producer Rick Ruben will be released November 9 as a nine-LP boxed set.
Jana Kramer has a new puppy, named Waffles. And the little guy already has an Instagram page: instagram.com/waffleskramer