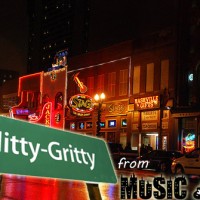 Blake Shelton is People magazine's Sexiest Man Alive for 2017… according to Gossip Cop. The website says Blake will grace the cover of the magazine's annual issue when it hits newsstands on Wednesday.
Blake Shelton remembered his brother Monday. On the 27th anniversary of Richie's death, the Blake took to Twitter to pay tribute to his late sibling, who was killed at the age of 24 in a car crash in 1990, when Blake was just 14. Blake wrote: "Lost my brother 27 years ago today. I was only 14 at the time but it changed my life forever… Made me realize that life is precious and there's no time like RIGHT NOW to go for it… We still miss you Richie!!" • LINK
Brett Eldregde and Jennifer Nettles will perform as part of NBC's Christmas In Rockefeller Center, airing November 29 from New York.
Garth Brooks has added a sixth show in Nashville, Friday, December 22. Garth sold out the previous five shows in just minutes. The concerts will wrap up his world tour, which kicked off in 2015.
Blake Shelton's Texoma Shore is his sixth number one album.
Carly Pearce's debut single, Every Little Thing, tops both the Country Airplay (Billboard) and Mediabase charts this week. She is only the second female artist to top the charts in 2017 following Lauren Alaina with Road less Traveled.
Tim McGraw and Faith Hill will be featured by the Country Music Hall of Fame and Museum in an exhibit called Mississippi Woman, Louisiana Man. It'll open November 17 and run through next June.
Sam Hunt's Body Like A Back Road has achieved quadruple platinum status for sales of more than more million copies.
Craig Campbell will perform as part of the National Christmas Tree Lighting in Washington, D.C. on November 30. The special will air December 4 on The Hallmark Channel.
Walker Hayes and his wife Laney are expecting their seventh child. Walker is also gearing up for the release of his new album, Boom, which will hit stores December 8.