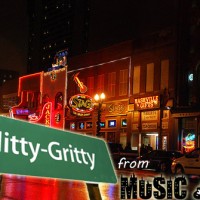 Luke Bryan is the most digital country artist. In human speak, Luke has sold more digital song tracks — over 40 million — than anyone in country music history.
Luke Bryan performs Friday on Good Morning America. It coincides with the release of his sixth studio album, What Makes You Country. He'll perform that night on The Tonight Show With Jimmy Fallon. Luke's performance on GMA will take place at the new Opry City Stage in New York, making him the first major country artist to play at the venue.
Luke Bryan will visit The Ellen DeGeneres show December 12.
Garth Brooks has his first number one in a decade. Ask Me How I Know tops the country charts (Billboard Country Airplay, Mediabase) for the first time since 2007's More Than A Memory.
Danielle Bradbery guests tonight on The Voice. Danielle is a former The Voice contestant, taking the top prize in Season 4.
Brett Young will visit Live With Kelly & Ryan this morning and perform O Holy Night.
Video of Randy Travis' 2012 arrest in Texas was released Monday, showing him naked and cursing at the police officer who arrested him. Randy issued a statement apologizing for his behavior, but also saying that a civil rights suit against the state of Texas would continue. TMZ released a portion of the three-hour video on its web site, showing Randy inside the police cruiser. Randy recounted how he had a disagreement with his fiance, how his father did not treat him well growing up. He then told the officer that he was mad at him for having locked him up inside the car and that he would pray for him.
… The statement from Travis' publicist said: "Randy's behavior was extremely altered the evening of his arrest due to the state of his mental health, and substances in his body, causing him to do and say things that were entirely out of character. He suffered a severe concussion and sustained numerous other injuries from the crash."
Garth Brooks' fans were left briefly in the dark for his final performance after a three-night stop in Newark, New Jersey. The outage occurred just before 8 PM Sunday while a warm-up act was on the stage. Fans sang Friends in Low Places while they waited for the lights to come back on.
Martina McBride's Joy Of Christmas Tour is one of her favorite parts of the year. Martina says not only is the set beautiful, but she gets to do costume changes that she doesn't get the chance to do during the year at any other time.
George Strait has been named the 2018 Texan of the Year by the Texas Legislative Conference. He will receive the honor March 22. Previous honorees include George W. Bush, George H.W. Bush and Ray Benson of Asleep at the Wheel. George is being recognized primarily for his efforts to help those impacted by hurricane Harvey, which hit the Houston area earlier this year.
Montgomery Gentry will hit the road next year to celebrate the band's 20th anniversary. The Here's To You Tour kicks off February 9 and will run through September. It's not yet known how the absence of Troy Gentry will be addressed.
Several country artists have partnered with St. Jude for the This Shirt Saves Lives T-shirt. The shirt is available to those who become a St. Jude Partner for $20 a month and is being sported by such artists as Thomas Rhett, Kelsea Ballerini, Luke Combs and Maren Morris. More details can be found at ThisShirtSavesLives.org.