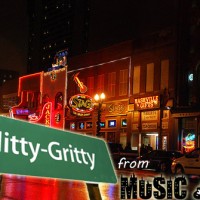 Garth Brooks fan Elisabeth and her husband are doing a honeymoon trip all the way from Sweden, traveling from Texas to Florida, and got the opportunity to ask Garth what they should stop and see along the way. Garth made her wildest dreams come true and invited Elisabeth and her husband over for some home cooking from Trisha. Garth said, "Why don't you just stop in Nashville and come on over for dinner. Haven't asked Trisha yet, but who cares?"
Carrie Underwood and Mike Fisher are trying for baby number two — according to the tabloid US Weekly.
Miranda Lambert hints her next project might be a collaborative effort with the Pistol Annies. Miranda says Ashley Monroe, Angaleena Presley and she have been writing a bit and hope to make 2018 a priority for more writing, though they aren't promising anything. The trio's last album was released five years ago.
Rascal Flatts' restaurant will open a branch at the new Margaritaville Resort Orlando in November. The 300 acres will also include a dine-in movie theater, shopping mall and water park. The guys have several branches of their restaurant planned but to do date have opened only one in Stamford, Connecticut.
Kane Brown says despite not talking with duet partner Lauren Alaina for a while, the two may collaborate again on his next album. When they recorded their tune, What Ifs, they also talked about another song.
Vince Gill and Amy Grant will play a dozen Christmas shows at Nashville's Ryman Auditorium this year. The shows begin November 28 and run through December 23.