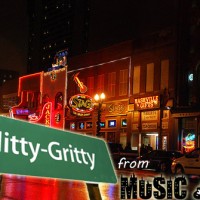 Garth Brooks is the first inductee to the Live Hall of Fame. The honor was created to honor those who have an impact on live events selling large amounts of tickets. Garth's three year world tour sold more than 6.3 million tickets, making it the largest seller in North America history.
Carrie Underwood — a well-known fitness buff — is on the mend after her November accident and is back on her workout routine. Carrie posted a shot of herself doing squats Saturday 10 in what appears to be her home gym, with the adorable "help" of her toddler son Isaiah.
… Carrie has not posted a full-on shot of her face yet. She warned fans at the end of 2017 that she "might look a bit different" after receiving 40-50 stitches to her face, but also assured them she's ready to meet 2018 head-on and hopes her injuries will minimally visible in time.
A celebration of life is set for tonight for Lari White, who passed away last month after a battle with cancer. Lari's best known hits included Now I Know and That's My Baby. She also made a cameo in the movie Cast Away.
Billy Currington will hit the road with LOCASH this spring for 16 shows. Dates begin March 30 in Wallingford, Connecticut.
Jessica Andrews and her husband have welcomed their first child, a baby boy. The Who I Am singer gave birth to son Rockwell on Tuesday (February 6).
Trace Adkins will star alongside Dennis Quaid in the movie I Can Only Imagine. Inspired by the MercyMe song of the same name and frontman Bart Millard, the movie will hit theaters on March 16. • TRAILER
Sugarland will head into the studio later this month to work on their first new music in more than six years. Jeniffer Nettles says when the duo gets back on the road May 4, fans can expect a taste of that new music as well as the Sugarland hits they know and love.
Jason Michael Carroll was involved in a car accident on Friday. The singer posted a photo to Instagram, showing the aftermath of a two-car accident that tore up the right front end of the Volvo he was driving. The angle of the photo makes it look as if the other car involved tried to pull onto the road Jason was traveling from a side road. Jason captioned the photo with: "Well this week has sucked. Could always be worse I reckon. Glad I had already dropped my kids off at school this morning before this lady pulled out in front of me." Jason says he was driving his father-in0law's car and slowing down to make a turn at the cross street when the other car pulled in front of him. • IMAGE
Jon Pardi has partnered with Dr. Pepper and will have his face on the product as part of a sweepstakes to give away two tickets to the 53rd Academy of Country Music Awards along with a private meet and greet. The ACM Awards are set for April 1 in Las Vegas.
Raelynn, Daniell Bradberry, Nicolle Gaylon and Emily Wiseband will play the CMA Songwriters Series February 20 in Wichita, Kansas.
Kane Brown visits ABC's Jimmy Kimmel Live tonight.
Here's LUKE COMBS doing a cover of Brand New Man. • VIDEO