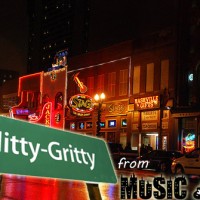 Dierks Bentley will celebrate the release of his ninth studio album, The Mountain, with a special concert June 7 at Nashville's Ryman Auditorium. The album will hit stores the following day. LANCO will open the late night concert with proceeds benefiting the Opry Trust Fund, which helps provide financial assistance to those in the music business. Tickets go on sale May 18.
Clint Black's 1995 holiday album, Looking For Christmas, will be turned into a musical which will run later this year at the Old Globe Theatre in San Diego. The musical adaptation will center around a military family adjusting to life after the husband and father returns home from Afghanistan. Meanwhile, his daughter goes on a quest to discover the true meaning of Christmas. The show will run November 20-December 16.
Kane Brown visits NBC's The Voice tonight to perform his latest, Heaven, with BLAKE SHELTON.
Maren Morris will join Zedd and Grey to perform the tune The Middle at the Billboard Music Awards May 20 on NBC. Maren will also compete that night against Miranda Lambert and Kelsea Ballerini for Top Country Female Performer. The show will be hosted by Kelly Clarkson.
Kenny Chesney scores a career first this week as he places two songs inside the Top 10 on the Country Airplay (Billboard) chart. He's hit this milestone with his song Get Along, and with his duet with David Lee Murphy, Everything's Gonna Be Alright.
Sylvia will release New Bloom: The Hits Re-Imagined on June 8. The album is a re-recorded set of the '80s hit-maker's biggest hits, such as Nobody and Drifter.
Chris Lane may have been able to round up pop star Tori Kelly for his song and the video for Take Back Home Girl, but he had to rent parents for the clip. Chris' folks live in North Carolina and the video was filmed in California, so they weren't able to leave their farm and make the trip.
Gretchen Wilson, Granger Smith and Colt Ford have signed on as ambassadors for John Rich's Redneck Riviera Whiskey. The artists will help promote the brand and its dedication to Folds of Honor, which strives to provide scholarships to spouses and children of fallen or disabled military. A portion of proceeds from sales of the whiskey go toward the cause.
Craig Campbell's 6th Annual Celebrity Cornhole Challenge is set for June 5 in Nashville. Lindsay Ell, Brett Young and Walke rHayes have all signed on to play this year. Proceeds go toward colorectal cancer research. Craig's father passed away from the disease when he was 11.