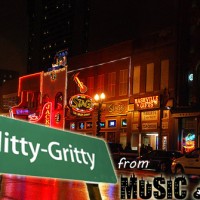 Brantley Gilbert's song Not Like Us will be used to help tell the story of NASCAR driver Chase Elliott. The tune, to be included on Brantley's upcoming album, will be played at races this season where Elliott is a participant.
Kelsea Ballerini kicked off her Miss Me More Tour with a sold out show in Salisbury, Maryland.
Luke Combs will perform May 7 at the Music Biz Hall of Fame awards and dinner at the JW Marriott Hotel in Nashville.
Billy Ray Cyrus' new album, The SnakeDoctor Circus, is coming May 24.
Hal Ketchum is living with Alzheimer's disease and dementia. His wife revealed the singer's diagnosis in a Facebook post on April 14. Andrea explains that she, her husband and their family decided to share Hal's diagnosis because fans have been wondering why he has no future scheduled tour dates. She wrote in the post: "Dementia is an exhausting and confusing illness, and now it's time for Hal to stay home with loved ones. Hal is otherwise healthy and happy, enjoying time with his family and friends."
The third installment in a collection of Buck Owens' singles with Capitol Records — Buck Owens And The Buckaroos: The Complete Singles 1971-1975 — will be out May 31. The set contains the A and B sides of all 21 singles released in that time period and follows sets from the 1950s and 1960s.
Crystal Gayle will release a new album of classics in May that will include her first collaborations with sisters Loretta Lynn and Peggy Sue.
A statue of Johnny Cash will be erected in his home state of Arkansas at the state capitol. Next to the statue of Johnny will be one of Daisy Bates, who was instrumental in helping nine children integrate the Arkansas schools in the late 1950s.
For George Strait's 87th birthday celebration he won't be asking Keith Urban to jump out of a cake like Loretta Lynn did. Instead, George would prefer Lee Ann Womack perform that honor.
A Thousand Horses frontman Michael Hobby and wife Caroline are expecting a baby girl this fall. The couple learned the news over Christmas and say Caroline is about halfway along in her pregnancy and things are going much better now that she's in the second trimester.