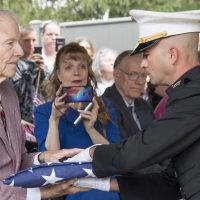 By Master Sgt. Ben Mota
434th ARW Public Affairs
The Marine on the mantle is home.
It was a generation in the making, but Marine Pvt. Fred Freet returned to Marion, Ind., and received military honors during his homecoming and funeral at the Marion National Cemetery April 18.
Freet was met with a Marine Corps honor Guard from Grissom Air Reserve Base, Ind., and generations of family members who only knew him by his photo.
The young Marine was killed in action during World War II, and declared by the military as unrecoverable killed in action until Aug. 6, 2018 when the U.S. Navy positively identified his remains.
Before this week, he was just a picture on the mantle to his family, said Bill Freet, a nephew who was born several years after his uncle joined the Marines.
"Thank you so very much," he said. Our family was overwhelmed with joy and emotion from Grissom's incredible display of respect and dignity. We are appreciative beyond measure."
During the funeral Grissom Marines from Detachment 1, Communications Company, Combat Logistics Regiment 45, 4th Marine Logistics Group, conducted a 21-gun salute, a long standing military tradition honoring the dead.
Following the 21-gun salute, Marines removed the flag from the casket carefully folding it before presenting it to Freet's half-brother Roger Covey.
"On behalf of the President of the United States, the United States Marine Corps and a grateful nation, please accept this flag as a symbol of our appreciation for your loved ones honorable and faithful service," said Capt. Pierce Virag, Detachment 1 inspector instructor, as he presented the folded flag to Covey.
That show of appreciation was also represented during the funeral by multiple family members, military organizations, the Marion City Fire, Police and Sheriff's Department and veterans who came to pay their respect.
In November 1943, Freet was assigned to Company F, 2nd Battalion, 8th Marines, 2nd Marine Division, Fleet Marine Force, which landed against stiff Japanese resistance on the small island of Betio in the Tarawa Atoll of the Gilbert Islands. Over several days of intense fighting, approximately 1,000 Sailors and Marines were killed and more than 2,000 were wounded, but the Japanese were virtually annihilated.
Freet died on the first day of the battle, Nov. 20, 1943, during the first waves of the assault.
"From day one we teach Marines to never leave another Marine behind, so to be part of the process of returning him to his family after all these years is a huge honor," Virag said.
In the immediate aftermath of the fighting, U.S. service members who died in the battle were buried in a number of battlefield cemeteries on the island, but Freet's remains were not identified.
In 2015, The Defense POW/MIA Accounting Agency received a unilateral turnover from History Flight, Inc., a nongovernmental organization, of remains recovered on Betio Island. To identify his remains, scientists from DPAA used dental, anthropological and chest radiograph comparison analysis, as well as circumstantial and material evidence.
Freet was posthumously issued the Purple Heart for wounds received in action resulting in his death, the Combat Action Ribbon for service during World War II and The Presidential unit citation amongst others.
"It took nearly 76 years, but a member of our greatest generation is home," said Col. Larry Shaw, 434th Air Refueling Wing commander. "We must never forget the heroes from our past and do our best to honor them at every opportunity."
The Marion National Cemetery is a resting place for more than 8,000 veterans.
The 434th ARW is the largest KC-135R Stratotanker unit in the Air Force Reserve Command. The Citizen Airmen from the Hoosier Wing routinely deploy around the world in support of the Air Force mission.