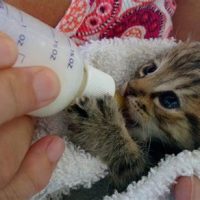 Muncie Animal Care and Services needs volunteers to bottlefeed motherless kittens, during what they are calling "Kitten Season." So far, 25 kittens have been taken in by the shelter, and they anticipate many more as warmer weather arrives.
Bottlefeeding would involve fostering kittens in your home to do the numerous daily feedings. While the shelter currently does not have any kittens, that could change at any time and would like to have trained feeders readily available.
If interested please call the shelter (765) 747-4851 and ask for Molli.