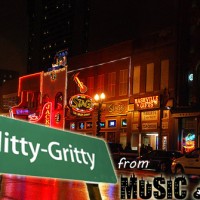 Kacey Musgraves got an odd request from an Australian fan that she firmly denied. Seems it's a tradition in Australia to drink a cocktail from a boot, dubbed a Shoey. Kacey flatly denied the request.
Brooks & Dunn and Reba have added more shows in Las Vegas. They'll play eight dates in December as part of their Together In Vegas residency at The Coliseum at Caesar's Palace.
Randy Travis' memoir, Forever And Ever Amen: A Memoir of Music, Faith and Braving The Storms Of Life, is available today. In the book, Randy talks about his upbringing in North Carolina, his career, medical problems, and a failed marriage.
Chase Rice's Eyes On Your holds the top spot on the chart for a second week.
Trisha Yearwood will deliver a new single next month. Every Girl in This Town is the first single from her forthcoming album, This Is Me, due out later this year. The album will be her first new country material in more than a decade.
Trisha Yearwood's Food Network series Trisha's Southern Kitchen returns May 18 with a segment commemorating her 20th anniversary at the Grand Ole Opry.
The Country Music Association's Introducing Nashville Tour is headed to Norway, Sweden, England and more this fall with performances by Chris Lane, Devin Dawson, Danielle Bradberry, Travis Denning, and Rachel Wammack.
Shania Twain has taken another movie role. She will appear in the upcoming movie I Still Believe. Shania will play the role of Terry Camp, the mother of Jeremy Camp, the real-life Christian singer-songwriter around whom I Still Believe focuses.
Home Free will release a new album, Dive Bar Saints, July 26. The set will contain mostly original material from the a capella group.