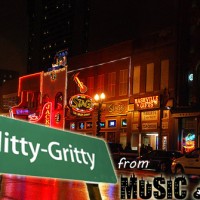 The CMT Music Awards saw a 29 percent increase in viewers, up to 2.7 million tuning in this year.
Carrie Underwood surprised fans at CMA Music Fest Friday night by bringing out rocker Joan Jett.
Garth Brooks played to 84,000 fans Saturday night in Denver, surpassing a venue record of 77,000 fans for U2's 2011 show.
Trisha Yearwood says her new album should be out by late summer or early fall. She also hints that Don Henley, who collaborated on her 1992 hit Walkaway Joe, may be a special guest on the project.
Craig Cambell's 7th Annual Celebrity Cornhole Challenge raised $35,000 for Fight ColoRectal Cancer. Clay Walker, Mark Wills, Lauren Alaina and others took part in this year's event. To date, Craig and friends have raised more than $335,000 for the cause.
Miranda Lambert credits her love of animals for preparing her to be a stepmom. Miranda's husband, Brendan McLoughlin, has a young son who was born around the time he and Miranda first met. Miranda says she's enjoying her roll as a stepmother and the motherly nature seems to come to her naturally.
Kane Brown is anxiously awaiting the birth of his baby girl with wife Katelyn Jay later this summer. Kane says he wishes he could fast forward time and is already talking about his hopes for her future — like playing basketball or softball.
Dolly Parton may visit her Dollywood theme park from time to time, but you won't catch her on a roller coaster. That's because Dolly gets sick on those rides. She also jokes that she's not about to get on one and mess up her hair.