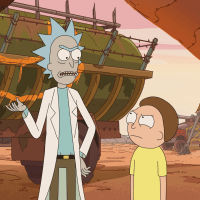 People are now wondering if a Rick and Morty movie might happen.
Rick and Morty returns to TV screens this fall for season four, but if you ask the hit show's creator, there could be bigger plans for the future.
Sitting down for a Reddit Ask Me Anything, a fan wondered, "Will we get a feature length Rick and Morty film ever?"
Show co-creator Justin Roiland was keen on the idea, answering that he would love to produce one.