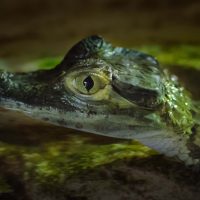 The Fort Wayne Police Department made a "wild" discovery Monday evening while checking out an abandoned apartment.
While investigating an apartment on Meadows Drive that had been taken over by squatters, Officer Jeff Burton found something unexpected inside a closet: a baby alligator.
Burton called Fort Wayne Animal Care and Control, which captured the alligator and took it away.
Alligators are considered an exotic animal, so people in Fort Wayne aren't allowed to have one.