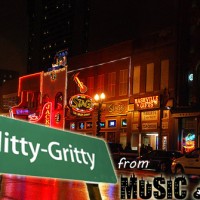 Jason Aldean will release his ninth studio album, titled '9', on November 22. The title was Jason's old baseball number and one that he always wanted to use if he were lucky enough to make nine albums.
Little Big Town will release its ninth studio album, Nightfall, on January 17. The group will also kick off its Nightfall Tour starting the previous night with a show at Carnegie Hall in New York. LBT's show at Carnegie Hall will be the first country headlined show at the venue since ALAN JACKSON played there in 2013.
Luke Bryan scores his 23rd number one this week as Knockin' Boots. The tune is the first taste of Luke's upcoming seventh studio album.
Brad Paisley has a new TV show coming to Amazon. In the comedy Fish Out of Water Brad will star alongside funnyman actor and writer Will Arnett.
Darius Rucker, Randy Houser, James Otto and Sugarland's Kristian Bush are just a few of the many artists who will come together for a benefit concert next Monday at the historic Ryman Auditorium to help those in the Bahamas battered by Hurricane Dorian. Tickets are on sale at Ryman.com and ticketmaster.com.
Florida Georgia Line's Brian Kelley and wife Brittney donated their German Shepherd, named Sarge, to the Indianapolis Metro Police Department. The couple adopted the dog last November but after some 'basic training' decided he would make a good police dog. The Kelleys also have four other dogs at home.
Randy Travis will be honored with the Founders Award from ASCAP during its 57th annual awards gala, November 11 in Nashville. The honor recognizes Randy is one of the innovative and pioneering creators in country music. Past recipients have included George Strait, Garth Brooks, Alan Jackson, rodney Crowell, and Emmylou Harris.
Zac Brown Band is partnering with Best Friends Animal Society in their new music video for the song Leaving Love Behind. The organization is helping find homes for animals displaced by Hurricane Dorian and the clip, showcasing every day animals doing extraordinary things, urges fans to donate to the cause. Leaving Love Behind is the latest single from ZBB's album The Owl, due September 20. • VIDEO
Old Dominion will play a dozen shows in Canada starting February 7. The We Are Old Dominion Tour will also include openers Mitchell Tenpenny and Canadian artist Meghan Patrick.