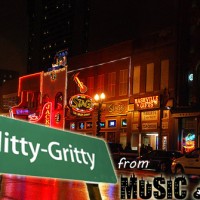 Kane Brown and wife Katelyn welcomed their first child, a daughter, on Tuesday. Her name is Kingsley Rose Brown. • IMAGE
Miranda Lambert will guest tonight on Late Night With Seth Meyers before hitting The Today Show and The View tomorrow. Her album Wildcard comes out Friday.
Miranda Lambert says she may one day be willing to change how she releases new music, but for now the album making process is still important.
Apple Music subscribers can see a short film on the making of Miranda Lambert's album Wildcard starting November 4. Titled Behind Miranda Lambert's Wildcard, the singer discusses the making of the album.
Jason Aldean played a free concert last night at his Jason Aldean's Kitchen + Rooftop Bar in Nashville. The concert was filmed, but Jason hasn't yet revealed in what way the footage will be used.
Reba McEntire will partner with streaming giant Spotify for a podcast to debut sometime in 2020. On the podcast Reba will discuss life's challenges and other issues with special guests.
Tim McGraw credits a comment from his oldest daughter, Gracie, more than a decade ago for his weight loss. Gracie pointed out that Tim looked big on the screen for his role in the movie Four Christmases, which prompted him to cut out cheeseburgers, other "truck stop foods," and alcohol and begin exercising regularly. Now 40 pounds lighter, Tim says that regiment has also helped his singing because he feels he has more control over his body, which leads to a stronger voice.
Dolly Parton's eight part Netflix series Heartstrings will debut on November 22. The series draws story lines from eight Dolly tunes.
Scotty McCreery sold out all five shows on his mini headlining tour in Germany and the United Kingdom from October 23-28. Next up for the American Idol alum is a string of U.S. dates opening for Old Dominion's Make It Sweet Tour tomorrow.