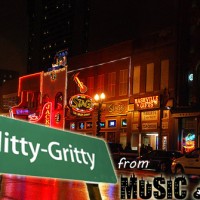 Martina McBride shared a touching tribute to her mother, Jeanne Schiff, who died on Friday following emergency heart surgery. Martina shared on social media: "My mom passed [Friday] morning. She was a complex and amazing woman. Strong. Chic. Non-nonsense. She took good care of us. She made her 4 kids self sufficient, told us to go outside and play, gave us chores to do and taught us how to work. She wasn't one to smother you with affection, do your homework for you, or attend every ballgame, but we always knew she was there for us."
Jake Owen and his 7-year-old daughter, Pearl, teamed up recently for a cute PSA against bullying. The father-and-daughter team paired up in the studio for a quick freestyle advising youngsters to be nice to each other.
The 2020 Houston Rodeo performers list has been revealed and includes several country acts. Running from March 3-22, headliners will include Luke Bryan, Brad Paisley, Willie Nelson, Chris Stapleton, Maren Morris, Jon Pardi, Dierks Bentley, and Midland.
Lady Antebellum say their latest album, Ocean, was a long time in the making. The band says they aren't sure they could have made this album a decade ago due to all they've experienced in their own lives in that time. They also say the songs show a more vulnerable side than on previous albums.
Jordan Davis has covered Jo Dee Messina's debut hit, Heads Carolina, Tails California for Amazon music. The tune can be streamed or downloaded now.
 AUDIO
Singer Halsey gives a nod to Shania Twain, one of her musical heroes, with two costumes she wears in the music video for her latest song, You Should Be Sad. The costumes mirror those Shania wore in 1990s video clips. In addition to Shania, Halsey also cites Carrie Underwood and Lady Gaga among her musical heroes.
Chris Janson and Travis Tritt make guest appearances on The Cadillac Three's song Hard Out Here For A Country Boy, which will appear on their upcoming album, Country Fuzz, hitting stores February 7.
Six time Grammy nominee Brady Clark will release her third album, Your Life Is A Record, March 6.