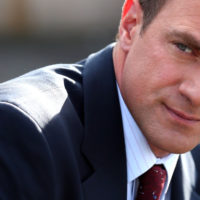 I have always been a fan of the Law & Order franchise.  And Law & Order SVU will be the longest running drama series of all time and it shows no signs of slowing down.  For the first 14 seasons we got to watch Benson and Stabler work together.  Christopher Meloni…who plays Elliot left the show after the 14th season…and he finally returns this fall in a spin off series called Law & Order: Organized Crime and it will air after Law & Order SVU.  Click HERE for more details on that.
He will appear on the season premiere of SVU so we get to see Olivia and Elliot reunite again.  There always seems to be marathons of these shows so you will have the ability to catch up on past seasons, but these two were a great team and fans of the long running show I know are very excited that Meloni is returning to the show that made him a household name.
Will you be watching? I know my DVR will be set for this show, and I hope it does well…or if it doesn't…they will bring him back to join the cast of SVU full time again. Either way…I am just thrilled that Stabler and Benson will be teaming up again one more time…and that several crossover episodes could be in store.  In this tough time…it is nice to have a show you can count on and can pull stories directly from the headlines of today.  Long live the Law & Order franchise!
~ Tim Thomas