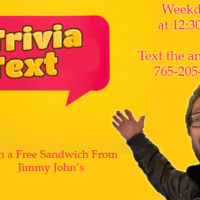 Want to win a free sandwich from Jimmy John's?  Listen in for Ben's Lunchtime Trivia Text.
Each weekday around 12:30 Ben will ask a trivia question.  Text in your answers to the WCJC Text Line, 765-205-1993.
Winners will be text back.  Ben will tell you the answer at 1:30.
All WCJC Contest rules apply.