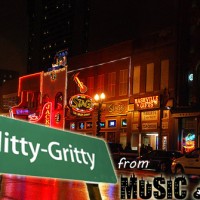 The winners from Wednesday night's CMA Awards: click here.
If country music fans want to attend concerts again someday, they should be prepared to get frequently tested for COVID-19, or get the vaccine when it becomes available. Concert ticket company Ticketmaster is working on a way to verify your health status: "After purchasing a ticket for a concert, fans would need to verify that they have already been vaccinated (which would provide approximately one year of COVID-19 protection) or test negative for coronavirus approximately 24 to 72 hours prior to the concert. The length of coverage a test would provide would be governed by regional health authorities — if attendees of a Friday night concert had to be tested 48 hours in advance, most could start the testing process the day before the event. If it was a 24-hour window,  most people would likely be tested the same day of the event at a lab or a health clinic."
Steve, Larry and Rudy Gatlin of The Gatlin Brothers lost their father, William Wayne "Curley" Gatlin, on Monday at the age of 93.
Dolly Parton will be featured in a new, one-hour holiday entertainment special, "A Holly Dolly Christmas," airing December 6 on CBS. The special will feature Dolly spreading holiday cheer by sharing personal Christmas memories and performing hymns, classics and a few songs from her new album, A Holly Dolly Christmas."
Florida Georgia Line bandmates Tyler Hubbard and Brian Kelley had some fans worried this week, as some social media moves sparked rumors of a fall-out between them. But a source close to the group says that all is well. The drama all started this week when both Tyler and his wife Hayley un-followed Brian on Instagram. Furthermore, the bandmates seemed to be a bit at odds politically in the wake of last week's U.S. presidential election. As Billboard notes, both Tyler and his wife follow president-elect Joe Biden, while Brian follows conservative media outlet Breitbart as well as Donald Trump Jr. The source tells Billboard that there is "no truth" to rumors that the duo's considering calling it quits. Tyler has since re-followed Brian on Instagram, though neither of the bandmates have addressed the rumors.
Garth Brooks will finally release his new album, Fun, on November 20 and says the album will be — fun. Garth says: "What I love about this record — it's as fun as any record, if not more fun than any record, we've ever done. But at the same time, it's gonna have those 'Garth moments' that's gonna take you all the way back to the first album. And that's what made it not only fun to record, but fun to listen to."
While Carly Pearce's 2020 has been the biggest year of her musical career, it's been terrible for her personal life. Over the summer Carly filed for divorce from Michael Ray after just eight months of marriage. She tells People that the breakup left her questioning everything: "I truly thought I was gonna die. There were moments I seriously did not know if I could breathe. It was awful. It is awful."
… While Carly declines to mention the specifics of how the relationship fell apart, she does explain that divorce wasn't something she took lightly: "This was not a flippant decision. This was something that I really took time to make sure I was doing the right thing. It was very clear that this was not the marriage I wanted."
Thomas Rhett and wife Lauren Akins will co-host the 11th annual CMA Country Christmas TV special. The show, which was recorded a couple of weeks ago, will air on ABC on November 30. Past emcees of the holiday extravaganza have included Trisha Yearwood, Reba, and Jennifer Nettles.
Thomas Rhett will try to score his 17th No. 1 single with the release of What's Your Country Song, which was released yesterday (Wednesday).