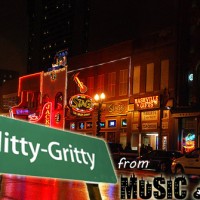 Carrie Underwood has inked a new deal with Bodyarmor sports drinks as the company's latest endorser. Carrie shared on social media: "Hydration is one of the most important things in all that I do. That's why I'm partnering with @DrinkBODYARMOR LYTE." Carrie stars in a new ad for the drink line alongside Houston Rockets player James Harden. After finishing a round of pull-ups, Carrie takes a swig of Bodyarmor Peach Mango as James asks, "Calling it a day, Carrie?" She answers, "Oh no, there's more," leading into a series of shots of her on the elliptical, cleaning up her children's toys around the house and signing copies of her book, Find Your Path. • VIDEO
Dierks Bentley popped up on Instagram the other day — grabbed his guitar and a hot cup of coffee and got to playing. Dierks delivered his newest song, Tell 'Em Right Now. In the song, listeners are urged to tell their loved ones how much they love them before it's too late. • IMAGE
Luke Combs is opening up about his history with anxiety. In an interview with Dan Rather, he reveals that he experienced anxiety from middle school through the end of college. He also shares that he suffers from Purely Obsessional OCD, what he calls "a unique form of [obsessive compulsive disorder]." While he largely has it under control, Luke admits he still has moments "here and there." • VIDEO
… Luke says Purely Obsessional OCD occurs in the form of obsessive thinking about specific issues. For him, those issues include his health, such as constantly worrying that he's going to have a stroke or heart attack.
… Luke's full interview on The Big Interview with Dan Rather airs Wednesday night on AXS TV.
Luke Combs' wife, Nicole, is one of the 22 millions Americans who have been diagnosed with COVID-19 — so far — and shares that she had a particularly bad case. Nicole shared on social media: "I wish I was like those people that just lost their smell or taste or just didn't even know they had it. But no, I've had all the symptoms, except for a fever. It's beat me up."
… There was no word on when or how the Nicole contracted COVID-19 — or if the potentially-deadly illness was passed on to her husband.
Maren Morris has new music on the way. Maren announced on Monday that she's giving us a new song Wednesday called Line by Line. The new track is a collaboration with Canadian singer JP Saxe.
Thomas Rhett is teaming up with his cousin, Jeff Worn, to create a new brand of tequila, Dos Primos, which translates to "two cousins" in Spanish. The tequila is harvested from Blue Agave sourced from Jalisco, Mexico and Los Altos, California, with the flavor described as a blend of herbal, floral and citrus. Dos Primos is currently available at retailers in 35 states and will be nationwide soon.
Brett Eldredge says his social media famous dog Edgar is retiring. Brett says Edgar will no longer be available for Instagram posts or anything else — even though the dog is healthy and well. Brett joked, "I don't want to have an influencer dog anymore, I just want to spend time with him all the time. That's why we ended up doing it."
Lady A is celebrating another number one, toasting the success of their latest single, Champagne Night. It's the band's eleventh chart topper and biggest hit since 2019's What If I Never Get Over You.