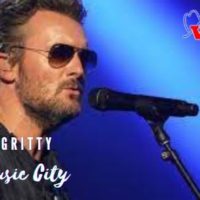 Eric Church shares that he hated the stage on his Gather Again Tour — a stage that took months to build and design. The massive tour kicked of September 17 and marks the first time Eric has ever done a tour in the round, with the stage in the middle of the arena and fans on all sides.
… When Eric got to Lititz, Pennsylvania for rehearsals and saw the stage for the first time, there was a big problem: He hated it. He said, "This whole stage is terrible. It looks like a Mardi Gras barge. It was awful." So Eric told them to start over. They ended up playing with that stage for the first three weekends, because they had to, until the new one was built.
… The Gather Again Tour will hit 55 cities and wrap up in New York City on May 22.
Jimmie Allen, Chris Lane, and Mickey Guyton are three of the celebrities who will ride along on floats during next week's Macy's Thanksgiving Day Parade.
Alan Jackson is gushing about Racing The Dark, a duet with his daughter Mattie about the tragic death of her husband Ben. It's been an incredibly difficult time for Mattie, Alan and the entire family after Ben slipped, fell and sustained a fatal brain injury 11 months ago.
… Of how Mattie turned her journey through pain into an emotional song, Alan says, "I'm really surprised how well she was able to handle all that. I know I couldn't have done what she's done. One day she came to me with this piece of paper and said, 'I wrote this song…' and asked me to put it to music. So, I wrote the melody for it, and it turned out to be a very sweet song." • VIDEO
Blake Shelton revealed the best wedding gift he got was a church pew. All 30 people at the wedding signed it and it's now in the chapel on their property.
Keith Urban, Carrie Underwood, Eric Church, Luke Bryan, Reba, and George Strait decorated Christmas trees at Opryland. They've also donated concert tickets and merchandise with all proceeds going to scholarships and help kids who lost a parent in the line of duty.
Zac Brown recently said he wanted to slap-fight Jason Aldean. Jason now says, "Zac and I are friends, but I'm not going to let him or anybody else stand there and slap the cr** outta me."