The Hit List with Fitz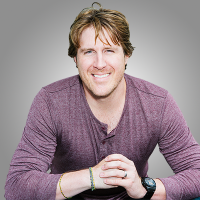 Fitz has FIVE kids, a Boston Terrier named Susie Lou Snuffoluffogus and a really hot wife who is far too beautiful for him, is with him out of pity and is trying to find a way out. Fitz brings a unique feminine perspective to the show because he is truly a 6'7" 245 pound baby! You might think he is an NFL linebacker but truly, he is an overgrown pansy. Fitz lives for reality TV. Be glad you can just laugh at him and that you don't have to live with him.
Listening to Fitz is not like anything else you've ever heard or experienced. Fitz has been described as someone with a huge heart who lives his life on the radio. His conversations and stories range from comical to profoundly honest. Some have described Fitz's show as a radio hybrid of "The Tonight Show" and "Saturday Night Live" with parody songs and comedy bits. With the cast's individual personalities and lively discussions on every-day subjects, the show creates a powerful emotional bond with its audience and covers topics that moms and daughters alike want to hear. It's a show that mom can listen to in the car with the kids and know the show will never embarrass her.
Often described as an "emotional roller coaster," Fitz in the Morning is renowned for being completely irreverent and hilarious one moment, then profoundly touching the next. It's the closest thing to Oprah on the radio.  Fitz's show is A family-friendly, character-based reality show.  Every morning, Fitz and the gang reveal everything about their lives. The show is a daily soap opera that listeners do not want to miss.
Fitz describes it as High School with a paycheck! It's not just a radio show…its entertainment that you become a part of. After hearing Fitz once, you'll be hooked.
Fitz grew up as the middle child in the small, North Texas, country town of Bowie. Fitz's mother, a theater arts teacher, always said he would be the President of the United States or in the state penitentiary. Thankfully, he put his energy in the right direction and ended up somewhere right in the middle, choosing a career in radio. From the young age of six, Fitz could be heard on the airwaves calling radio stations begging the DJs to put him on the air. Years later, as president of student body for his high school, Fitz was responsible for school announcements every morning. Even then he couldn't resist making his daily two minutes on the intercom as entertaining as possible for all who listened. "I went to my principal one day and told him that his announcements were boring. I begged him to let me do the daily announcements and the next thing y'know, I had 3 minutes every morning to start people's day with a laugh." And the rest, as they say, is history.
After high school, at the age of seventeen, he started hounding the program director of KNIN in Wichita Falls, TX. His persistence finally paid off when they allowed him to have a few hours on the weekend, but just as things started to get going in the right direction, the station was bought by a different company and Fitz was let go. It's no surprise though that when the new owner found a tape of Fitz's weekend show, he immediately realized that a mistake had been made, and he promptly called Fitz, offered him the morning show and at the the tender age of eighteen. His dream had come true, and The Fitz Radio Program was born!
Fitz was always striving for the next best thing, so he made a demo tape and sent it off to a station called 93Q in Houston, TX. They offered Fitz the co-host position for their top-rated morning show. From there he had stints in Oklahoma City, OK, and Dallas, TX, where at the age of 23, he was the host of his own morning show and the youngest ever to accomplish that in a top ten radio market. Fitz is currently the host of the top rated, "Fitz in the Morning" show on 100.7 The Wolf in Seattle, WA.
In January 2011, Fitz was chosen from thousands of radio hosts throughout the nation to fill in for Regis on Live with Regis and Kelly where he impressed producers and ABC executives with his interview of Sir Anthony Hopkins and other segments on the show. He is known as the only person ever to "High-Five" Sir Anthony Hopkins during an interview. Kelly Ripa almost poisoned Fitz by putting lavender oil in his mouth while giving him a facial. Fitz survived and it made for great television. Elsewhere on the small screen, Fitz was also the host of the nationally syndicated show "Fitz on Fox Allaccess USA" During Fitz's downtime, he enjoys spending time with his family and friends, singing and watching reruns of "Breaking Bad", "The Golden Girls", & "The Wonder Years".