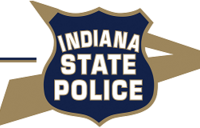 Henry County – An early morning pursuit that started in Henry County ended in Wayne County with the arrest of two Huntington men.  Around 12:30 a.m. this morning, (5/16) Trooper J.T. Burns was on patrol in Henry County when he overheard radio traffic of an Eaton P.D. unit attempting to pull over a fleeing car in Delaware County, a maroon Chevrolet, last seeing the vehicle as it fled south bound on US 35.
Burns and other units moved north towards the Delaware County line when, around 12:40 a.m. in the area of U.S. 35 and CR 675 E. a vehicle matching the description passed Burns and Troopers Ratliff and Garcia south bound on US 35 at 80 M.P.H. Burns got behind the vehicle, activated his lights, but the vehicle refused to stop.
The vehicle continued south bound into Wayne County where it went south on SR 1 to I-70 east bound at a high rate of speed. Traffic was light through the area, so Troopers Burns, Ratliff and Garcia continued after them. Around the Centerville Rd. exit Wayne County units set up stop sticks, a tire deflation device, and the maroon Chevrolet hit them deflating the left side tires.
The vehicle exited I-70 onto Williamsburg Pike south bound into Richmond at a low speed due to having flattened left side tires. After turning east onto US 40 in Richmond they continued east until crashing into a light pole at N. 19th and E. Main.  ISP, Richmond and other Wayne County Units surrounded the car and troopers took the driver, Norman Stanley, age 34 of Huntington and his passenger Benjamin Veach, age 20 also of Huntington into custody.
Further investigation by the Troopers found the men in possession of suspected Methamphetamine, a narcotic pill, drug paraphernalia and hypodermic syringes. Stanley, the driver, was found to be a Habitual Traffic Violator with his license suspended for life, and was also wanted on multiple count felony warrants for drug and driving violations out of Huntington and Grant Counties.
After being checked out at Reid Health System Hospital, Stanley was charged with Level 5 Felony Dealing Methamphetamine, and Level 6 Felony charges of  Resisting Law Enforcement, Operating as a Habitual Traffic Violator, Possession of Methamphetamine, Possession of a Hypodermic Syringe, and Possession of a Legend Drug as well as the two multiple count felony warrants.
His passenger Benjamin Veach was charged with Level 6 Felony charges Resisting Law Enforcement, Possession of a Hypodermic Syringe and Possession of a Legend Drug. In addition Veach was found to be wanted on a Felony Warrant out of Huntington County for Violation of Probation for an original charge of Operating While Intoxicated Felony. Both men were lodged in the Henry County Jail, as that was the county where the ISP chase originated.
All Suspects Are Presumed Innocent Until Proven Guilty in a Court of Law