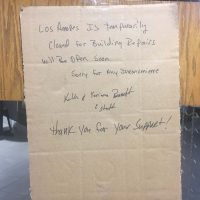 At least parts of the Boston Hill Center, formerly the Centrum Mall, are closed for an unknown period of time after local departments spotted multiple issues.
According to Food Inspector Dale Carr of the Grant County Health Department there was a sewer line break and according to Marion Fire Department Fire Investigator Brandon Eckstein fire extinguishers needed maintenance and electrical hazards were found.
"There were things each department saw that (made us) come to the conclusion there was maintenance that needed to be brought up to today's code to make building safe for the public," Eckstein said.
As of now the new Mexican-American restaurant Los Amores is shut down until maintenance is completed.
Riley Tangeman who oversees the center said she does not know when the center will reopen.
Carr said that once sewer line is fixed the Health Department will complete an opening inspection to ensure the property is up to code for food safety.
According to Jay Jackson, a technician at KB Computers inside the center, he does not believe the maintenance will impact the computer company. However, he was concerned about Los Amores suffering because they only recently opened.
"The little (foot traffic) momentum the mall has gained since the restaurant opened will be slowed," Jackson added.