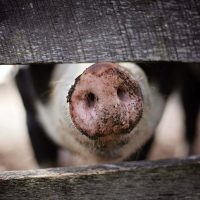 In June, Fair Oaks Farms was investigated for animal abuse. Now, PETA is calling for another investigation after another video.
It happened at East Fork Farms in Jackson County, which supplies a Louisville slaughterhouse that makes Swift Brands pork — sold at Kroger, Costco and other stores.
In the video, mother pigs are so injured, they can't move, and piglets have their tails cut off and are left to rot.
There also piles of decomposing bodies and heads. PETA has asked Indiana State Police to investigate the farm.