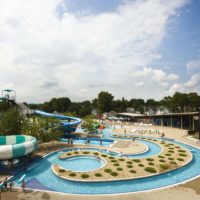 With the state moving on to stage 3 of the "Indiana Back on Track" program today, community pools are now able to open according to CDC guidelines.
But the Splash House, Marion's popular waterpark, could be an exception.
Mayor Jess Alumbaugh told Good Morning Grant County Hosts Tim George and Ed Breen that he is "strongly considering" not opening the Splash House at all, mentioning concerns over social-distancing protocols.
"I'm not sure how you socially distance children…," Alumbaugh said.
Alumbaugh said he hopes to make a final decision Tuesday.