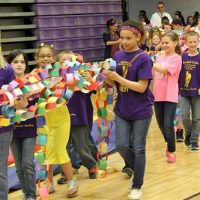 The seventh annual Marion Community Schools Kindness Rally is this evening from 5:30 to 8 p.m. at the Marion High School gym and is open to the community.
The Chain Reaction Ceremony kicks off the event, with the annual Student Kindness Awards and Staff Kindness Awards; the Kindness Chain Parade, where representatives from each school march in with paper chains, with each link representing an act of kindness noticed throughout the school year. A carnival with bounce houses, games, a photo booth, food, and more will begin immediately after the ceremony.
Tickets to be used for the carnival attractions are four for $1 and are available at the door. Proceeds will fund continuing anti-bullying efforts throughout the school system.
The Chain Reaction Ceremony is set for 5:30 p.m. (Doors open at 5 p.m.) The ceremony will feature:
MHS JROTC presenting the flag.
Performances by school music groups.
Presentation of Student Kindness Awards, which honor one student from each school who embodies the spirit and kindness and who consistently exhibits it to those around them.
Messages from district administrators.
The Kindness Chain Parade.
The carnival will begin immediately after the ceremony.