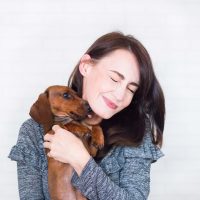 A wandering wiener dog was rescued from a drainage pipe in Bloomington.
Ollie, a long-haired dachshund, wandered into a pipe beneath a driveway on Monday and became trapped.
The other end of the pipe was crushed and mangled and Ollie couldn't turn around. Three members of the Bloomington street department came to Ollie's rescue.
They cut away the mangled metal and removed Ollie from the pipe. Ollie wasn't hurt and is back home with his family.