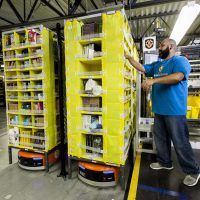 Amazon is looking to fill more than 1,000 jobs in Greenwood.
The online retailer has begun hiring for the positions as it prepares to open its $80 million receive center in the Johnson County city.
The new jobs will be focused on Amazon's customer fulfillment operations, including receiving inventory, packing and shipping customer orders and supporting network logistics.
Plans for the 615,000-square-foot facility were first announced in October.
At the time, the company said the project would create more than 1,250 jobs. The facility is scheduled to open in September.