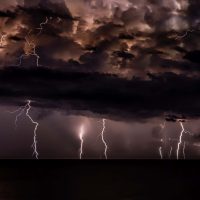 A lightning strike during a flag football game sent ten Louisiana prison inmates to the hospital on Monday.
According to the Louisiana Department of Corrections, "The lightning strike came without warning, as it is David Wade Correctional Center's procedure to clear the yard when potentially dangerous weather approaches."
The National Weather Service's Shreveport office tweeted a warning of "isolated to scattered thunderstorms possible through around sunset" earlier that afternoon.
Of the ten injured, nine are in stable condition. Security regulations prevent the release of their names.