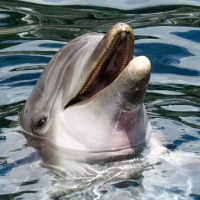 He's not a Polynesian demigod, but he was named after one. The Indianapolis Zoo has announced the name of their baby bottlenose dolphin, and his name is Maui.
The zoo put out a poll on Facebook so you could vote on a name for the newest member of the Indy dolphin family.
Maui received more than 50% of the vote, said the zoo. The other names were Leo and August.
You can't visit Maui in the St. Vincent Dolphin Pavilion yet, but you can still the rest of the pod in the underwater dome.