City Councilwoman Lynn Johnson is being asked to pay more than $95,000 for a breach of fiduciary duties, according to a court document obtained by WBAT.
The document states that on April 13, 2016, Johnson was appointed as a temporary guardian of her relative, who is listed as an "adult incapacitated person." In January of 2017, she was listed as the guardian of the relative's estate.
Throughout 2017 Johnson submitted accounting documents that inventoried the financial details of the estate, prompting a review of her actions on Dec. 27. At the same time, she was removed as the estate's guardian. The Greenfield Banking Company was listed as the new guardian and asked by the court to review Johnson's accounting activities.
The subsequent review, filed on June 28, 2019, resulted in the Greenfield Banking Company alleging Johnson of self-dealing, mismanagement, and requesting payment for attorney fees and to recover assets from Johnson and her husband, William Robert Johnson.
"…none of her purported inventories and accountings comply with the legal requirements for guardians," read the court document. "Not only was the form of her filings not compliant, the figures used in those documents varies throughout."
The document states that Johnson engaged in "repeated acts" of self-dealing without court approval, including gifts to her husband, employing herself to perform work on behalf of the relative, selling items to that person and purchasing items from the estate.
In one instance, Johnson used estate funds to pay her husband for an alleged debt owed to him by the relative that was at least ten years old. She also sold the relative's vehicle at a deep discount without court approval or proper documentation.
She also failed to write checks for expenditures, the document reads.
The document states that Johnson blamed the accounting failures on previous attorneys and accountants hired by those attorneys, her own employees and her husband.
Here's a total breakdown of what Johnson was charged. Out of respect for the relative, name has been slightly edited.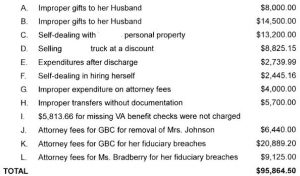 Johnson will be charged eight percent interest each year until the sum is paid off.
Johnson also unsuccessfully ran for the Democratic nomination for mayor in this year's municipal election.
This story will be updated as more details come to light.