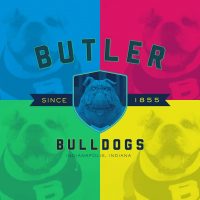 Butler University's live bulldog mascot, Blue III — also known as "Trip" – is retiring at the end of this school year.
Trip joined the Butler family in 2012 as a bulldog puppy. Michael Kaltenmark, who has been the caretaker for Butler's bulldog mascots for the last 16 years, will also retire.
The university says they will be working closely with local veterinarian Dr. Kurt Phillips to find Trip's successor, Blue IV.
Photo credit: Butler University