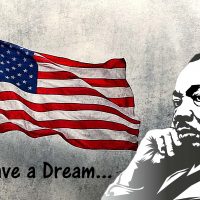 Civil Rights pioneer Dr. Barbara Reynolds will be the featured speaker as Taylor University celebrates Dr. Martin Luther King Jr. Day on Monday, Jan. 20, with a day of speakers, workshops, and the presentation of the play Defamed.
The theme for the day, "Remaking, Reshaping, and Restructuring," is based on a speech at Harvard University delivered by King's widow, Coretta Scott King, just weeks after her husband's death in Memphis, Tennessee. "In this period of social, political, economic and religious transformation, not one of us can be spared the luxury of withdrawing from the arena of action," she said. "As members of the family of mankind we have an inherent moral responsibility to become participants in the greatest creative venture in the history of our world: that of remaking, reshaping, yes, restructuring our whole world order."
Reynolds, Taylor's featured speaker for the King celebration, is an author, church pastor, and former newspaper reporter. She knew both Martin and Coretta King. The forward for Reynolds book, No, I Won't Shut Up: 30 Years of Telling It Like It Is, includes a forward written by Coretta Scott King.
Reynolds attended Howard University Divinity School in 1988, graduating in 1992 and was ordained as a minister in 1993, later earning a D. Min. from United Theological Seminary in Dayton, Ohio, in 1997. She also was founder of Harriet's Children, an organization that assisted women who struggle with alcohol and drug addiction.
At 1:15 pm, four workshops will be presented:
· Celebrating the Unity and Diversity of the Human Race through the Use of Forensics/Science, Dr. Dan King – Euler 109
· Martin Luther King, Jr. in Historical Context, Dr. Ben Wetzel – Euler 100
· Understanding Environmental Racism: The Disproportionate Burden of Pollution on Minorities in the U.S., Dr. Phil Grabowski – Euler 118
· The Last Lynching in Indiana: Racism and the Continuing Problem of Evil, Dr. Ed Meadors – Euler 130
Additionally, the Taylor Writing Center will host an essay contest based on the Remaking, Reshaping, and Restructuring theme. The winner will receive a $100 gift card to the Bishop's Nook Campus Store and a copy of My Life, My Love, My Legacy, co-written by Reynolds and Coretta Scott King. The runner-up will receive a $20 gift card to the Jumping Bean coffee shop on the Taylor campus.
Defamation, the day's featured play, is acted and directed by Taylor students and is a courtroom drama telling the story of the struggles of an African-American business owner.
Taylor officials have again suspended classes for the day so faculty, students, and staff alike can join in a day of learning and reflection.
Schedule:
10:00 am, Chapel, Rediger Chapel/Auditorium: Rev. Dr. Barbra Reynolds
1:15 – 2:15 pm, Euler Science Complex, educational workshops
3:00 – 4:45 pm, Euler Atrium, the performance of the play Defamation with discussion to follow
7:00 – 8:45 pm, Euler Atrium, Performance of the play Defamation with discussion to follow