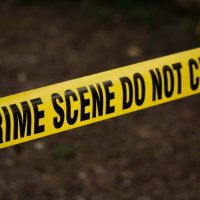 On Monday morning the Marion Police Department responded to a disturbance at a Prairie Court residence.
It happened at around 6:36 a.m. when a Marion woman reported that her ex-boyfriend Marquon Devon Jackson, 31, forced entry into her home by climbing over the fence and pushing a window inside the home enough for him to gain entry, according to MPD's Deputy Chief Stephen Dorsey.
Once inside, Jackson approached a man who was on the living room couch asleep. The male victim reported that Jackson pressed a weapon to the front of his face and instructed him to get up or he would shoot him.
He added that while he was getting up from the couch Jackson struck him in the face. Jackson escorted him outside the home and to his vehicle, a Dodge Charger, where he then stated he left the residence.
Jackson then re-entered the residence where he then dragged the female victim to the kitchen. She reported that Jackson continually stated that "he wanted the dog back and that he wasn't leaving without him."
Jackson then grabbed a dog leash and attempted to gather the dog, but the dog escaped through the front door and took off running from the property. The female reported that once the dog ran away Jackson left the residence, and took her iPhone 7.
After a few minutes, she said that she got into her vehicle and went to find her dog that she last saw running toward 32nd St. She reported that she headed east on 32nd St. where Jackson approached her vehicle and told her to get out of the vehicle.
She reported that she didn't get out of the vehicle, at which time Jackson fired three rounds from his pistol and then took off running towards Lincoln Blvd. She then returned home and began screaming for help.
The male victim reported once he heard the gunfire he headed back to the residence and witnessed her standing outside. He called 911 and instructed dispatch of the incident.
This case was completed and submitted to the Prosecutor's Office.