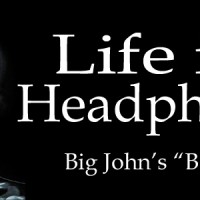 We like to do what we call, "Family Fun Days."  It might be a trip to Chuck E Cheese, or hiking at the State Forest.  Just something that we don't do all the time.  And usually we take turns picking.
Well, my daughter earned herself a family fun day of her choosing after a good couple of weeks at school.  (Yes, we bribe our children for good behavior.)  So she picked the trampoline park.  They first went with their granny last summer.  And they've been a couple of times since.  The first time that we took the kids, we were introduced to all the excitement.  But before you can jump, you've gotta put on the socks.  Oh, you don't know about the socks?  They are not just any socks.  And they can't be your socks.  These are high dollar grippy socks.  I think they were like 3 or 5 dollars a pair.  And if you want to jump, you have to have them.  In fact, even if you want to go up on the platform with the trampolines, you have to have the socks.
The first trip we didn't purchase said "expensive socks."  So we watched from the sidelines.  And of course after about 10 minutes the kids are thirsty.  Time to buy an overpriced bottle of water.  I know, I get it, they have you trapped.  Doesn't mean that I don't like to complain about it.
Well this latest family fun day, my wife talked me into jumping along with the kids.  So here goes nothing.  I slipped on my "too small" overpriced grippy socks, and away I went.  Just the basic trampolines first.  There were kids running wild everywhere.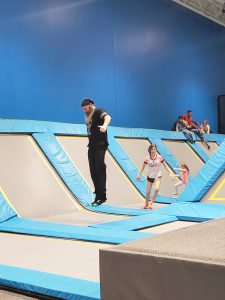 For a minute I thought, "Where are their parents?"  And then I realized they didn't get suckered into the socks. I got pretty good at just bouncing from trampoline to trampoline.  Then my son says, "Come dunk with me"  See, my son is obsessed with basketball.  That what we do year-round with him.  So when we get to the trampoline park, you know where he is headed.
There were two goals.  One standard, and one a little lower.  So of course I had to try the standard goal.  And have to say I failed horribly.  In fact, I almost popped my back out of place…but I struggled through.  I did try the lower rim with much more success.  My son was there most of the time just dunking away.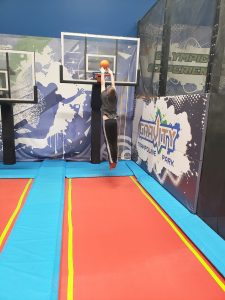 There was an injury I needed to report.  In the Dodge ball arena…yes, I said Dodge Ball Arena!  They have the sloped trampolines around the wall.  You know, to bounce off of and launch the balls at the poor unsuspecting kids on the other side.  Well, my overpriced grippy socks didn't grip so well. Down I slide and got a horrible rug burn.  Or would it be trampoline burn.  I had to visit the first aid station to get it covered up.  Because, let's be honest…how many germs are flying around a place like that.  I bet it rivals the ball pit at Chuck E. Cheese.
Now my wife and I were smart enough to realize that we didn't want to jump for two hours…but the kids did.   So that gave us an our to re-cooperate.  The kids continued slam dunking and jumping into the giant airbag.  They loved it.  The bad thing about sitting and waiting for an hour was we stiffened up REAL FAST.  We're talking had a hard time getting up from the picnic tables.
I left with a battle wound.  My wife had a messed up back for about two days.  My son said his shoulders hurt from slam dunking for two hours non-stop.  But over all it was a fun family fun day.  Next time I will remember to just watch!  I'm getting too old for that stuff.