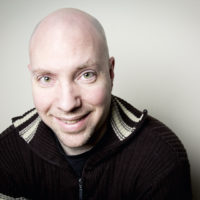 Hello Marion!  Allow me to introduce myself.  My name is Tim Thomas and I will be your companion from 2-7pm for your Country Drive Home!  Happy to be joining the team here on WCJC!
Contrary to popular belief, it was not a requirement to have facial hair and a bald head like Big John to get the gig.  It just worked out that way!  I have been in the radio business for over 7 years, and was born and raised in Illinois.  My radio career has taken me from a small town in Montana, to Missouri, back to Illinois, and now to Hoosier country.  Been a big fan of country radio for a long time and excited to bring this great music to all of our listeners.
When I am not on the air, I am a big Chicago Cubs fan (hopefully we will have baseball this summer) and enjoy going  to see live music and sporting events.  You also might catch me on stage as I am an avid fan of community theatre and have managed an improv troupe in my past.  So hopefully once we are able to have more live events and interact a little closer I will get the opportunity to meet many of you.
I hope to make you drive home a bit more pleasant and thank you for listening!  Excited to be on board!