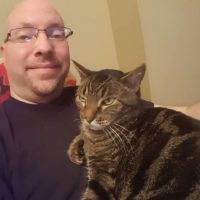 Feline owners…rejoice!  Today is a day to get a little extra loving to your furry companion.  It is National Hug Your Cat Day!  I am a proud owner of one, and have been for quite some time.  My Apollo is about 9 years old.  He has come with me to 5 different homes since I got him as a re-home from a dear friend of mine.  I promised her I could provide him with a forever home.
Having a cat, assuming you are not allergic, can be a great thing for several reasons.  They reduce stress in a household.  They are pretty easy to maintain, as they are self sufficient.  Make sure the litter box is clean, feed them at the proper time, have cold water for them…and they are good to go! And yes…they like a little socialization.
If you have ever thought about getting one, please consider going to a local shelter and adopt.  Make sure you are ready for a lifetime commitment.  If you are stuck at home, now would be a perfect time to acclimate one to your home.  Pets in general enrich our lives, and my Apollo has certainly done that for me.  When I come home after a hard day…a simple greeting and purr is all I need.
So if you are an cat owner…give them a little extra love today…maybe a few extra treats.  They deserve it for all the love they give to us!