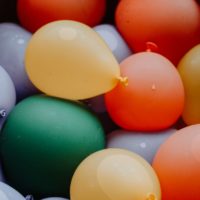 Most school years go out with a bang: There are end-of-year concerts, field days, school-wide picnics, and all sorts of other pomp and circumstance. This year, it's going out with a barely more than a whimper—a teacher dropping by to say a socially distanced goodbye, a final Zoom call with classmates. With everything feeling so bleak at the moment, one thing we can celebrate is the start of summer; by marking it with a party.
Of course, you can't really go anywhere or even invite a slew of people over to join you in the celebration, but that doesn't mean it can't be fun.
Here are a few other "Welcome to Summer" party ideas to get you started:
String up balloons and/or streamers around the home or backyard
Have a backyard picnic or their favorite meal for dinner
Dust off and pull out the old summer toys or yard games
Surprise them with a few new summer treats or toys, such as bubbles, water balloons or water shooters
Set up an obstacle course around the backyard
Turn up the music and have a dance party
Have a water fight (as a bonus, this is a good stress reliever for the whole family)
And even if your kids have already wrapped up school for the year (or you gave up the remote learning on your own weeks ago), it's not too late. Pick the next warm, sunny day, and throw yourselves a party.