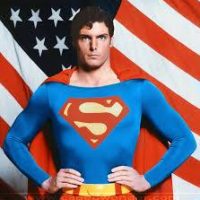 Today is a day where we celebrate The Man of Steel!  It is National Superman Day!  For many of us, including me, Christopher Reeve will be the only Superman…and the best.  But this is up for debate, depending on the generation you grew up in.
George Reeves was the first actor who portrayed Superman on the screen and did so on TV from 1952-1958.  Then the film was brought to the big screen in 1978 and more many…the great Christopher Reeve was the original.
After the films it got a reboot of sorts on TV with the Adventures of Lois and Clark and actor Dean Cain played the role of Clark Kent and Superman from 1993-1997. Then the 2000's hit and Smallville hit our airwaves and ran from 2001-2011 where Tom Welling played the Man of Steel.
In 2006 Superman Returns hit theaters with Brandon Routh in the lead role…and only time he played the part.  In 2013…Henry Cavill got the Marvel treatment and has played the role on the big screen ever since.
So who was your favorite?  Please share your thoughts!
~ Tim Thomas