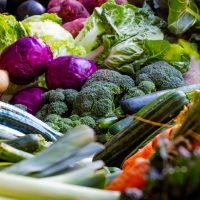 Ever had a garden around your home?  Live on a farm?  Having fresh vegetables may not be the most glamorous thing but they certainly are healthy and should be enjoyed more often than they are.
During this pandemic I have put on a little more weight than I would care to admit.  Too much delicious home cooking from mom.  Well now that I need to buy for myself, I am trying to eat a little healthier.  Adding some fresh veggies help.  Farmers markets are a cool way to get some great produce.  Those super foods, like sweet potatoes (totally underrated by the way) and other fresh veggies.
Doctors say you should try and have color on your plate.  Balanced diet.  Not always easy to do, but in the long run, it can help you in more ways than one.  Adding more veggies to your diet, can only help…and in this pandemic, anything we can do to help our bodies to fight off disease and infection is a plus.  Try adding more fresh veggies to your diet, and especially to your kids.  It may pay off in the long run!
~ Tim Thomas