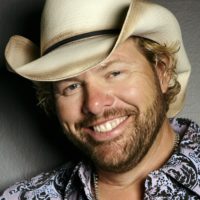 Today we celebrate the birthday of country superstar Toby Keith! He is 59 today, and he has carved out a pretty impressive library of songs and businesses.
Keith has released 19 studio albums, two Christmas albums, and five compilation albums; a total worldwide sales of over 40 million albums. He has charted 61 singles on the Billboard Hot Country  charts, including 20 number one hits and 21 additional top 10 hits. His longest-lasting number one hits are "Beer for My Horses" (a 2003 duet with Willie Nelson) and "As Good As I Once Was" (2005), at six weeks each.
He owns a restaurant chain called I Love This Bar, and also has his own clothing line called TK Steelman. And he still tours regularly.  I have been a fan of his music for a long time.  He is a great live performer and he has been recognized by the Songwriters Hall of Fame who inducted him in 2015.
He has always supported the troops and is still making new music.  So wish him a Happy Birthday!  What is your favorite song from his library of work?  Share it!
~ Tim Thomas