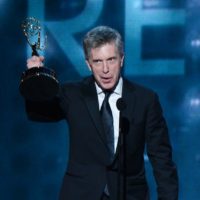 Looks like Dancing With The Stars will continue…but with new hosts.  Big Mistake!
After a 15 year run which saw him win a Emmy, Tom Bergeron is out as host of Dancing With The Stars.  He had been there since the beginning and I can't think of another host with the exception of Jeff Probst on Survivor who is more synonymous with a show.  Erin Andrew is out too.
Bergeron has hosted the ABC reality competition show since its premiere in 2005, with a variety of co-hosts including Lisa Canning, Samantha Harris, Brooke Burke-Charvet. Erin Andrews, best known as a sports journalist and ESPN sportscaster, joined as co-host in 2014. He is terrific.  And was willing to call out ABC for some questionable casting choices.  Maybe that is why his contract was not renewed.
Currently, the future of Dancing With the Stars is slightly uncertain. The show was renewed for a 29th season set to premiere this fall, but most productions are still shut down due to the pandemic, and no announcements have been made as to how DWTS could film safely. The show does have a spot in ABC's upcoming primetime schedule on Mondays at 8 p.m., but no announcements have been made as to how it could film safely, since close personal contact between contestants and pros (and even other contestants) is a major part of the competition.
Dancing With the Stars, in its current format, airs live each week, which would make similar filming in quarantine a lot more difficult, though the show will be going in a "new creative direction," per the above statement.
We do know one thing about the season, however: Kaitlyn Bristowe, another former ABC Bachelorette is joining the cast. Chris Harrison offered her a spot during her appearance on The Bachelor: The Greatest Seasons Ever, and she happily accepted.
Dancing With the Stars will soon return to ABC.  I can't see this show lasting much longer without Tom.  And the voting has been flawed for a while.  I can't recall the last time the best dancer actually won.  I do not think Tom is replaceable…and I think this is not a good sign for ABC.  He will land on his feet, but I think this is a big mistake for ABC and a bigger loss for #DWTS.