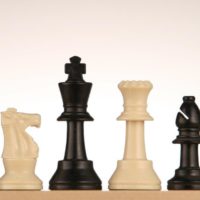 If you are stuck at home with your kids…and might be when the school year begins, may I suggest learning the game of chess!  It doesn't sound that exciting, but this strategic board game can benefit the kids in a big way.
The mind, like the body, needs exercise to keep it at its peak form. And, one of the best ways for kids (and adults) to exercise their minds is to play chess. Chess is a ton of fun, can be played by all ages, has infinite potential for players to improve, and is played all over the world!
Here are 5 important benefits of playing chess which we hope will compel parents to encourage their children to play:
1. Improves Concentration and Memory:
Children who play chess significantly improve their visual memory, attention span, and spatial-reasoning ability … all important factors for success in school.
2. Enhances Math and Reading
The need to focus on problem solving and the process of thinking through move variables are important traits that help improve children's math skills. In addition, studies have shown that because chess requires children to use cognitive processes such as decoding, analysis, thinking, and comprehension (all skills required for reading), chess playing kids greatly improve their reading skills over non playing kids.
3. Helps Develop Logic, Critical Thinking, and CREATIVITY
Playing chess requires a lot of "if-then" logical analysis and "what-if" scenarios, all necessary ingredients for developing logical and critical thinking. In addition, studies show that chess boosts creativity, most dramatically in originality.
4. Encourages and Rewards Hard Work
Playing chess provides immediate feedback. Lose your focus, lose a piece; study the game and practice, win more games. Your children control their destiny.
5. Think Through Solving Complex Problems
Chess helps kids learn and practice thinking through and finding solutions to complex problems.
I was a chess champion as a child, even being part of a school who won the state tournament when I was a 8th grader.  I love the game, and miss playing.  Your kids may enjoy it and if there is a chess club around, encourage them to join.  Options are available on line where they can learn to play for free.  Trust me, they might enjoy it, and their grades may improve too.  WIN-WIN!