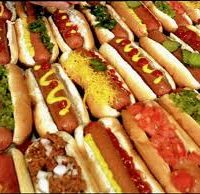 Well today is a day where we celebrate the unique food item known as the Hot Dog!  An item that has been enjoyed by many and can be enjoyed many different ways!
Being from Illinois, I know a thing or two about hot dogs.  The Chicago Dog is a staple that must be enjoyed if you ever visit here.  And a hot dog does seem to taste better at a baseball game.  Not sure why, but it does.  There are many different ways to enjoy a hot dog, and different parts of the country have different versions to pleasure your palette! Check them out!
New York-In New York, the simple dog reigns supreme. A hot dog in the Big Apple is traditionally topped with a spicy brown mustard and either sauerkraut or onions sautéed with tomato paste.
Atlanta-Atlanta residents typically top their savory dogs with a cool, creamy, crunchy slaw. It's a southern thing—you'll see.
Chicago- Chicago-style dogs are some of the most well-known and unique hot dogs out there. The iconic dog from the Windy City comes loaded with an array of toppings, but always includes fresh tomato, big spears of pickle, hot peppers, sweet onion, and relish.
Detroit-Though far from the New York beach and amusement park, the famous dog from Detroit is named the "Coney Dog," and the beloved city spots that serve them are still called Coney Islands today. Smothered in beefy chili, shredded Cheddar cheese, and raw onion, these hearty hot dogs are an iconic Detroit city dish.
For other options click
HERE
and you can choose your favorite!