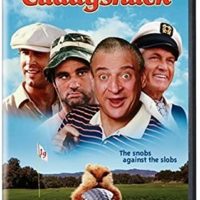 One of the funniest movies of all time is turning 40!  Happy Birthday to Caddyshack! Technically their birthday is tomorrow but I am getting a jump start on it!
It was billed as the Slobs vs the Snobs!  And it has become one of the most beloved comedy's of all time! Comedic legends, upcoming stars, and a gopher!  This film still makes me laugh today.  Here are just a few interesting facts about the film:
• The original plot for Caddyshack revolved around Danny Noonan's conflicts with the characters played by Ted Knight and Scott Collomby. Chevy Chase, Bill Murray and Rodney Dangerfield were only supposed to have cameo-sized roles, but their improvisational routines were so successful that their characters were continuously expanded. As result, Knight and Collomby's roles were reduced for screen time — much to their annoyance.
• Bill Murray and Chevy Chase's one scene together almost didn't happen. Harold Ramis, the director realized that the movie's two biggest stars never shared any screen time, so he, along with Murray and Chase, wrote the scene during lunch and shot it later that day.
• By the end of the shoot, Ted Knight could not stand the constant improvisation.
• Caddyshack was Dangerfield's first major movie role, and despite his years as a hilarious stand-up, he was nervous about his performance; he constantly asked co-stars if he was doing okay.
• In what's probably the furthest thing from Kenny Loggins, Harold Ramis originally wanted the Caddyshack score to be made up entirely of Pink Floyd songs. The studio rejected that idea.
• The New York Times' review of the film called it "immediately forgettable."
• Outside of the U.S., the film's biggest success was in Denmark.
• The explosion at the end of the film was so big, a pilot reported it to the nearby Fort Lauderdale Airport, thinking it was a plane crash.
• Chevy Chase was the only castmember to return for Caddyshack 2, and later regretted the decision. Producers also begged Rodney Dangerfield to return. Upon reading the script, he threw it in the trash.
Maybe if you are stuck inside this weekend…re-invest and watch this comedy classic.  You will smile and laugh..a lot!