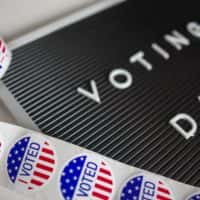 In order to gain public feedback, the Grant County Voting Registration board will hold a series of public meetings to discuss plans for the proposed voting centers for the upcoming election.
The first meeting will be Tuesday, July 28th at 2 p.m. at the Grant County Council Chambers at the Grant County Complex at 401 S. Adams St., Marion IN 46953.
The second meeting will be on Thursday, August 27th at 6 p.m. at College Wesleyan Church at 200 E. 38th St., Marion IN 46953.
Or you can attend either meeting virtually by going to VOTEGRANTCOUNTY.NET and clicking on the link.
Proposed Vote Centers
MARION:
  YMCA – 123 Sutter Way – Marion 46952
   St. Paul Baptist Church – 1204 W. 14th St. – Marion  46953
    Lakeview Wesleyan Church – 5316 S. Western Ave. – Marion 46953
   Calvary Social Brethren Church – 304 N. Miller Ave. – Marion  46952
GAS CITY/JONEBORO:
   Eastview Wesleyan Church – 414  N. 10th St. –  Gas City  46933
   Westview Wesleyan Church – 1300 W 6th St. – Jonesboro  46938
FAIRMOUNT/FOWLERTON:
   Fairmount Baptist Church – 1201 N. Main St – Fairmount 46928
UPLAND/MATTHEWS:
   Upland Community Church – 439 W. Berry Ave – Upland 46989
SWEETSER:
   Liberty Baptist Church  –  517 Church St.  –  Sweetser 46987
SWAYZEE/CONVERSE:
   Swayzee United Methodist Church  –  306 S, Washington St. – Swayzee 46986
VAN BUREN:
  United Methodist Church (Fellowship Hall) – 105 S 2nd St. – Van Buren 46991