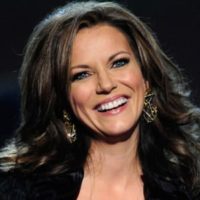 Country music has had a lot of amazing voices, especially for women.  But for my money, my favorite has always been Martina McBride!  She turns 54 today and her place in country music history is secure.
She is one of the most respected vocalist in the genre and in music in general.  She has 4 CMA awards for Female Vocalist of the Year, 3 ACM awards for Top Female Vocalist, and has been nominated for 14 Grammy's.
I have been lucky to see her live on a few occasions, and trust me…you will be amazed.  How that powerful voice comes from that little frame I will never know.  But she has always been able to connect with her fans, and hit every high note with such power…gives me goosebumps.
Check out a few of her biggest songs performed live below.  And wish her well on her special day!